I've got shelves and shelves of books on the tarot, all of which I've collected over time. I've been studying it for quite awhile. For today's blog post, I chose five books at random from off my shelf to share with you.
Although you don't have to have studied the tarot for a long time to use it for writing, the tarot is so fascinating that once you really start to get into it, you find yourself (if you're like me that is) wanting to learn more and more about it.
As I said, I chose these five books at random. I'll be sharing more of books on tarot in future posts and, although it's not Tarot Thursday, I'll still be talking about the tarot and writing tomorrow. I'm going to focus on how to look at a card when you're brainstorming ideas for your writing.
Here are the five books:
The Tarot Bible by Sarah Bartlett – The Definitive Guide to the Cards and Spreads.  I like this book not only because of its small size (it's perfect for carrying around with you along with your trusty tarot deck), it goes into as much detail regarding the court cards and the Minor Arcana as it does the Major Arcana. Some books on tarot don't do this and they sometimes give the court cards and the Minor Arcana short shrift. This is a great book if you're new to tarot.
Tarot Spreads by Barbara Moore – Layouts & Techniques to Empower Your Readings.  Barbara Moore is one of my favorite tarot authors. Her books are always very insightful and very accessible. She's also one of the creators of some of my favorite tarot decks, including the Steampunk Tarot, the Gilded Tarot, the Shadowscape Tarot and the Book of Shadows: As Above tarot deck. If you're new to spreads or need some new ideas for spreads, I highly recommend this book.
The Book of Thoth (Egyptian Tarot) By Aleister Crowley. This is not a book for beginners and it may not even be all that helpful if you're only interested in using the tarot for writing. But if you happen to own the Thoth Deck and you want to learn more about it, there's no better source than the man who, along with Lady Frieda Harris, designed it. The Thoth Tarot isn't for everyone. The symbols and images are very esoteric and very rich in symbolism, but it's one of my favorite decks and, depending on the mood I'm in, I use it a lot. This book goes a long way towards explaining the often strange and startling symbols you find in the cards and their meanings.
Again, not a book for beginners or those new to tarot, as it's very dense, but it's a fascinating read and a must have for anyone who does own the Thoth Deck.
The Secret Language of Tarot by Ruth Ann and Wald Amberstone.
 This book isn't so much about the cards as the symbols within the cards. Using the Rider-Waite deck, this book explores the symbols that you find in the images of the deck. Many images such as stars, the cross, the moon, the sun, horse, flowers, etc, appear and reappear in the cards and this book helps you to understand not only the symbolism behind those images but how they apply to a specific card. This is not a book to be read from beginning to end, however. It's more like an encyclopedia of tarot symbols. Highly recommended because it definitely adds depth to your reading of the individual cards.
Tarot for a New Generation by Janina Renee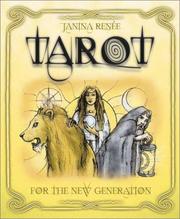 – I'd classify this book as best for those who are familiar with the tarot but are looking for more information about the cards. It's not as basic as The Tarot Bible, but it does offer more information. The reason I like this book, particularly for using the tarot for writing, is that the meanings of the cards are broken down into sections. So, for example, the interpretations of the Five of Wands card is broken down into five sections: Breaking Away, Competition, Conflict, Group Influences and Other People. You can choose to read all of the meanings under each section or choose an interpretation that's more conducive to what you're writing about. A very in-depth book but best read, if you're new to the tarot, after you've had some experience with the cards or you could be overwhelmed by all the information in the book.